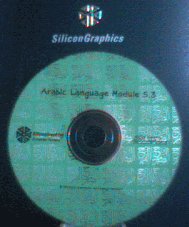 The Arabic support for Silicon Graphics IRIX Operating System

Available on IRIX 6.5

We provide language and cultural support for Arab countries (Middle Eastern, North African) on the Silicon Graphics platform. You can customize your system to recognize certain bilingual (English/Arabic) conventions, such as left to right and right to left writing directions, automatic shape determination (context analysis), dual keyboard mapping, numerals shaping, date and time formats, currency format and sorting order.
The Arabic Language Module (ALM) is part of the IRIX family of language modules. ALM is a product designed specially to support the Arabic language. The ALM Package is composed of two main subpackages: ALM.TTY and ALM.GUI. The user may choose one of these subpackages depending on the application environment
ALM.TTY is an extension to the IRIX operating system Kernel for the "Character Interface" support. A stream module is added to the kernel, processing on exceptional basis the Arabic characters transferred along TTY lines. A special shell and a variety of commands are added to complete the package. ALM.TTY handles winterm window displays and real alphanumeric terminals either on local or remote connections.
ALM.GUI allows arabization of MIT X Window and/or OSF Motif interface based applications as well as the full localization of the whole IndigoMagic desktop environment including IRIX desktop tools such as Toolchest, 4DWm, MoviePlayer, CDplayer, ImageWorks... The arabization is included in different library levels, depending on the application use itself.
ALM will allow staff in your office to share and use existing IRIX applications in Arabic with little or no adjustment. With ALM load and go transparency, a user can use immediately, in Arabic, applications such as vi, uemacs, Indigo Magic Tools, Z-Mail or any TTY application or Motif based interfaced program, without any modification of the application. A user can even mix Arabic and English characters within the same document, with a simple keystroke. Such bilingual power and elegance w ere never possible before.
Character Codeset ISO 8859-6, ASMO 708 and ASMO 449+ supported.
Bilingual Keyboard: The keyboard mapping may be switched to English or Arabic by a simple keystroke. Arabic letters are indicated by keyboard stickers.
Impressario support for Arabic printing (PostScript)
Direct Printer Connection support (font downloading)
ALM TTY (Console) Features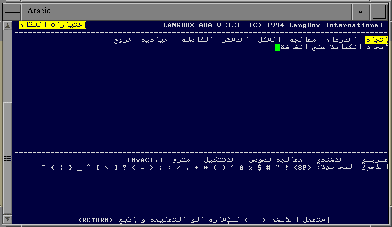 Implemented in a pushable STREAMS module format.
winterm/xwsh/xterm terminal emulator screen support.
Most popular terminal support (Wyse, DEC Vt320, HP,...)
Specific shells allowing the activation of the product (esh, ash, eksh, aksh, araexec)
specific set of new commands allowing to customize the Arabic process parameters (context, nocontext, hindi, nohindi, dataproc, wordproc, tashkil, notashkil, neutral, arabic, english,...)
(click on the image to get a bigger size one)



ALM GUI (X11/Motif) Features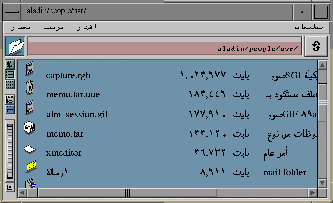 Xlib text rendering support.
Xm Label, String, Text, TextField widgets support.
Cut and paste and drag and drop features support.
Proportional spacing font set including several font size.
Directly usable with X11/Xm dynamically linked applications by setting LD_LIBRARY_PATH.
Can be easily adapted to X11/Xm statically linked applications by relinking.

(click on the image to get a bigger size one)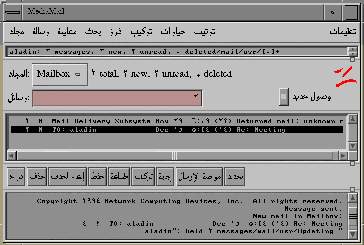 The MediaMail-pro program (Zmail) is supported under ALM. The user may send/receive Arabic mails through the network, read them on the screen and print them using a new version of the mail pretty printer filter.
Moreover, all menu, labels and messages of MediaMail-pro have been localized into Arabic Language.
(click on the image to get a bigger size one)



For the Web environment support, ALM includes the a copy of the AraMosaic Arabic Web Browser distribution. AraMosaic has been enhanced to support full Arabic HTML document (Text selection, Right to Left presentation, Postscript printing...) and allows to browse ISO 8859-6, MS CP1256 and ISIRI 3342 encoded HTML documents.
Also, ALM allows directly the use of Netscape Navigator 3.x in Arabic in order to browse Arabic HTML documents. However, since Netscape has not been directly Arabized, some features such as Text Selection for Cut'n Paste operation and mainly the Mouse pointing within a text string is not supported in all cases. AraMosaic fixes this problem.
An ALM Development Package is also available. It is specially designed for application developers that want to address deeper the Arab market needs. This package includes ALM Arabic Libraries specific access for Display and Postscript printing applications.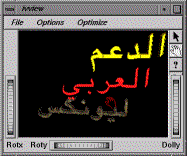 For more information on ALM, you can download a Postscript slide Presentation or contact the following :
LangBox International Immeuble Space, Bat. B - 208 / 212, Route de Grenoble - 06200 Nice - France Tel: +33 (0)4 93 71 14 10 - Fax: +33 (0)4 93 71 15 60 - E-Mail: support@langbox.com



and/or
Silicon Graphics
Middle East and North Africa
P.O. Box 17472 Jebel Ali Free Zone, Dubai, United Arab Emirates
Phone: +971 4 814545 - Fax: +971 4 813814 - Email:
admin@dubai.sgi.com