| | | |
| --- | --- | --- |
| | LangBox International offer on DEC Platform | |
Presentation of the Operating systems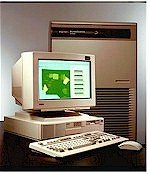 There is 3 main operating environments on the Digital hardware platforms :
True64 UNIX operating systems (previously called DEC OSF/1 and/or Digital Unix) : This is the UNIX OS running on Alpha workstations and servers. The Digital UNIX operating system is a multi-user/multitasking, 64-bit, advanced kernel architecture based on Carnegie Mellon University's Mach kernel design with components from Berkeley Software Distribution (BSD), UNIX System Laboratories System V Release 4.0, other software sources, the public domain, and from Digital Equipment Corporation. True64 Unix is shipped with CDE/Desktop, the OSF/Motif graphical user interface and programming environment as well as the X Window System from MIT. It is fully compliant to the Single UNIX Specification, to the X/Open UNIX brand, to POSIX 1003.1B (Realtime) and to POSIX 1003.1C (with DECthreads).
You can find more info here.



OpenVMS is a general-purpose, Real Time and multi-user operating system that runs in both production and development environments. OpenVMS Alpha supports Alpha series computers, while OpenVMS VAX supports VAX, MicroVAX, VAXstation, and VAXserver series computers. OpenVMS software supports industry standards, facilitating application portability and interoperability. OpenVMS provides symmetric multiprocessing (SMP) support for multiprocessing Alpha and VAX systems.
The OpenVMS Alpha operating system provides support for 64bit virtual memory addressing and Very Large Memory (VLM). The OpenVMS operating system can be tuned to perform well in a wide variety of environments. This includes combinations of compute-intensive, I/O-intensive, client/server, real-time, and other environments. You can find more info here.


VMS is the old Real Time and multi-user operating system that runs on Dec Vax machines. It was the DEC Operating system before the OpenVMS generation, and there is still sites and applications that run exclusively under this environment.
List of LangBox's product available
VAX VMS 5.5 and 6.1



Alpha OpenVMS 6.5



Alpha True64 UNIX (OSF/1, Digital Unix) 3.2

Customer Download Area for this platform
If you have not yet an account on our Customer Area, please subscribe or contact us.
LangBox International plans to support DIGITAL UNIX 4.0.