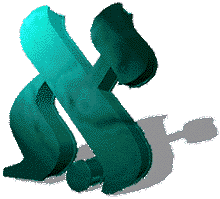 LANGBOX-HEB is a product designed specifically to support the Hebrew alphabet. In addition to English, Hebrew language issupported with keyboard mapping, system messages, screen and display management, collating sequences, and date and time routine services.
LANGBOX-HEB is an extension to the UNIX operating system Kernel. A virtual driver is added to the kernel, processing on exceptional basis the Hebrew characters. A special shell and a variety of commands are added to complete the package.
LANGBOX-HEB will permit staff in your office to share and use existing UNIX character based applications in Hebrew with little or no adjustement. With LangBox International's load and go transparency a user can obtain an English word processor, data base manager, spreadsheet or any 8-bit clean application and use it immediately - with no modification to the application - in Hebrew. He/She can even mix Hebrew and English characters and text within one document with a keystroke. Such bilingual power and elegance was never before possible.

For the User
Use the best existing "English-only" applications in Hebrew with no modification.
Dynamically switch between Hebrew and English.
Enter UNIX commands in Hebrew or English.
Receive system messages in Hebrew or English.
Dynamically select screen directionality.

For the Developer
Develop Hebrew products and bilingual applications without bilingual programmers.
Move existing "English-only" applications into the Hebrew world.
Develop applications that meet the highest Hebrew standards.

For the Distributors and VARs
Open new markets with new products/systems that meet local requirements.
Expand your customer base with bilingual product offerings.

For the Manufacturers
Enhance your total offering to the Hebrew markets.
Address international opportunities through our special LangBox International cooperation program.
The following features are available on LANGBOX-HEB:

Bilingual keyboard : The keyboard mapping may be switched to English or Hebrew by a simple keystroke. Hebrew letters are indicated by keyboard stickers.
Character codeset : The following character codeset is supported under LANGBOX-HEB :

Kernel support of Input/Output processing.

LANGBOX-HEB Commands and Utilities
Two kinds of commands are added under the LANGBOX-HEB bilingual environment.

The LANGBOX-HEB shells :

LANGBOX-HEB offers two national shells allowing :

The keyboard mapping.
The setting of environment variable.
The screen management and the display processing depending on the language selected.

These shells are : esh for English; hsh for Hebrew

The bilingual LANGBOX-HEB and UNIX commands and utilities :

Those commands and utilities are the following :
hcharset, hload, hmode, hebrew, combo, english, neutral,
hdisp, hind, hxtract, hxec, hfps, hsetup, hmask.
Bilingual Unix-like :
rhed, hcal, hcancel, hcat, hcp, hdate, hed, hmkdir, hln, hlp, 
hls, hrmdir, hmv, hpr, hpwd, hrm, hvi, htail, hvedit, hwc.
These commands return national (English or Hebrew) state or error messages depending on the shell selected.
LANGBOX-HEB supports ISO 8859-8 codeset.
Ported to SCO UNIX System V, CDC EP/IX and Intergraph CLIX.
Terminal emulators under X Window and other windowing environments are fully supported on these plateforms.
All equipment running any version of UNIX. Call us for more information.
On PC's (80386/486), the EGA or VGA cards are supported with the virtual screens.
A variety of terminals and printers are supported. All terminals and printers supporting one of the LANGBOX-HEB codesets or downloadable are supported.