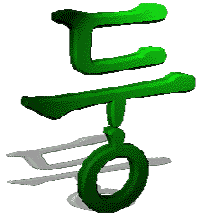 XLANGBOX-HANis a product designed specifically to support the Hangul characters. In addition to English, the Korean Input/Output is supported with keyboard mapping, dual keyboard management, keyboard input method, screen and display management,
XLANGBOX-HAN is an extension to the UNIX X11 and Motif system libraries. A new set of Dynamic shared Object (DSO) is added to the system, with fonts. A special variety of commands are added to complete the package as well as a new Window Manager.
XLANGBOX-HAN will permit staff in your office to share and use existing UNIX applications in Korean with little or no adjustement. With XLANGBOX's load and go transparency a user can obtain an English text editor, data base management application interface, spreadsheet or any X11/Motif application and use it immediately - with no modification to the application - in Korean.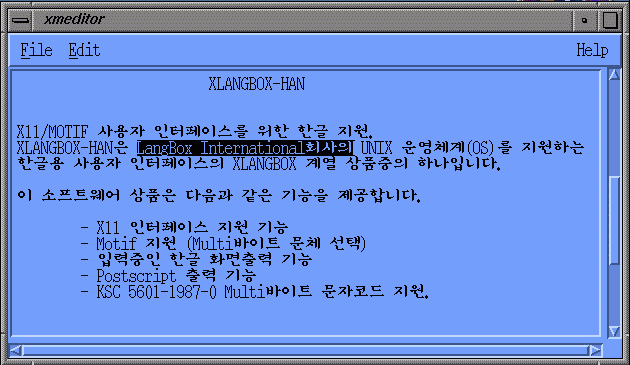 For the User
Use the best existing "English-only" applications in Hangul with no modification.
Dynamically switch between Hangul and English.
Enter UNIX commands in Hangul or English.
Receive system messages in Hangul or English.

For the Developer
Develop Hangul products and bilingual applications without bilingual programmers.
Move existing "English-only" applications into the Korean world.
Develop applications that meet the highest Hangul standards.

For the Distributors and VARs
Open new markets with new products/systems that meet local requirements.
Expand your customer base with bilingual product offerings.

For the Manufacturers
Enhance your total offering to the Korean market.
Address international opportunities through our special cooperation program.
The XLANGBOX-HAN Features
The following features are available on XLANGBOX-HAN:
Hangul Input status tool : The Hangul input status (Hangul shape building by stroking Hangul Consonant, Hangul vowels and Hangul Consonant) is shown in a specif Motif tool. Moreover this tool allow to configure some other Hangul specific processings.


Bilingual keyboard : The keyboard mapping may be switched to English or Hangul by a simple keystroke. Hangul letters are indicated by keyboard stickers.



Input per Client : The Input mode (keyboard language, keyboard status...) can be set independently per Client Window or common to all client Window running on the same X Server.

Character codeset : The following character codeset is supported under XLANGBOX-HAN:
KSC 5601-1997 (Multibyte codeset)

The X fonts are also available in the package.

XLANGBOX-HAN Configuration
Two kinds of configuration are available under the XLANGBOX-HAN bilingual environment.

The XLANGBOX-HAN Status tool (menu setting)
The setting of environment variable.

XLANGBOX-HAN X11 extension
Most of he basic X11 I/O routine have been enhanced to support the Hangul language:

XLookupString, XLookupKeySym,
XDrawString, XDrawImageString,
XLoadFont, XLoadQueryFont.

XLANGBOX-HAN Motif extension
Multibyte support for XmText and XmTextField Widgets

XLANGBOX-HAN Window Manager Extension
Keyboard language display in the Window title bar (could be independent per Client or common to all client)

XLANGBOX-HAN Printing support
Postscript printing support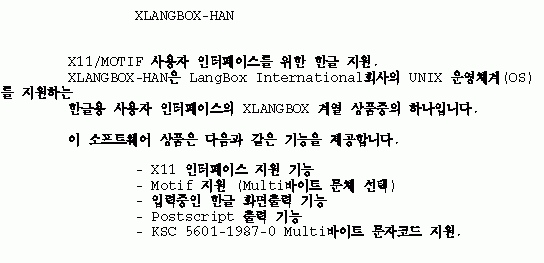 "Sample output in Postscript"
The TTY (Console) Support
Terminal Emulation on all Unix Graphic User Interfaces based on X Window are supported. This includes xterm on X Window, Suncmd and Suntool on SUNVIEW,...etc. However, since these pure X11 applications do not support Multibyte codeset, the text selection operations might give some errors or some garbled characters within an Hangul string.
XLANGBOX-HAN supports the following character codesets:
Ported to Sun Solaris 2.5, Stratus FTX 3.01
All equipment running any above mentioned version of UNIX.
Tektronix X Terminal Xp350 support.